Ogłoszenie numer: 6656886, z dnia 2022-03-29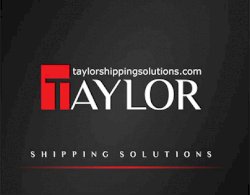 Taylor Shipping Solutions is an international corporation headquartered in San Antonio, Texas, USA.
At Taylor Shipping Solutions, youll be working in the US logistics market worth approximately $ 792 trillion.
We have 12,000 vehicles.
Taylor Shipping Solutions consists of a number of companies and shipping partners:
OTI Trucking
Tampa 300+ Trucking Capacity
Jacksonville, FL 150+
Savannah, GA 167+
Charleston, SC 87+
Rock hill, SC 32+
Miami, FL 280+
Landmark Savannah 167+
Landmark Jacksonville 80+
Landmark Brownsville 16+
Landstar 12,000 vehicles
250,000 carriers
As a company, these are the resources our brokers will be able to use to take advantage of the earning potential of the $ 792 trillion available pool. Our brokers made $ 250 million dollars last year, excluding other positions with our company. If you want to become part of the Taylor family please reply to our advertisement.
Spedytor Międzynarodowy
Miejsce pracy: mazowieckie
The freight forwarder plans the logistics and makes sure that all bases are included in the A to B goods transport process. Typical duties include:
Considering and planning the most efficient route for freight

Arranging freight between intermediate destinations - usually cargo terminals, port facilities or railway yards

Reporting to customers, keeping them informed of the progress of the goods

Deciding on the best way to pack the goods taking into account factors such as weather, terrain and type of goods

Taking appropriate measures to move fragile goods

Checking country legal requirements to make sure all documentation (eg insurance and customs forms) is complete

Negotiating freight charges
Knowledge of the English language

Excellent negotiation and problem solving skills

Excellent communication skills

Computer literacy

Good organization of working time

Communicativeness

Flexibility
We also invite candidates without experience in logistics, we will teach you everything from scratch!

Attractive earnings, full employment contract and guaranteed in the employment contract, high monthly bonuses depending on the profit earned

Independence and independence in action

Opportunity to develop a professional career at an international level

We offer work in an international environment in a dynamically developing company

Substantive support from experienced forwarders

Possibility of continuous development and establishing business relations with companies from all over Europe

Company CHILL ROOM, (company playroom) - where you can always relax and recharge your batteries before the next challenges

Great work atmosphere

Work from Monday to Friday

Work on the American market

Unlimited earning opportunities